Cold Weather Travel Trailer Safety
Posted on: February 9, 2016 by Aegis General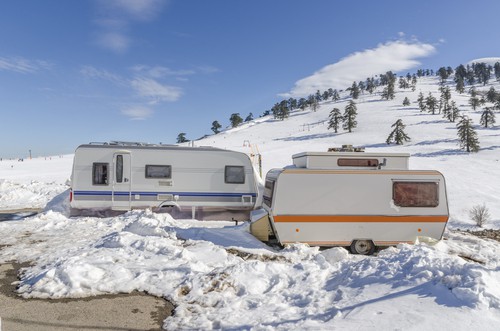 The lure of camping in winter is undeniable for avid travelers. As the crowds and traffic are virtually nonexistent, campers are able to enjoy nature and take in their surroundings free of any distractions. However, the cold weather brings some additional safety concerns for travel trailer users. With the protection of a Travel Trailer Insurance Program and some simple planning, these winter camping trips can be just as enjoyable as summer treks.
Rather than wait until the last minute to see if there's any issues, have the trailer examined by a mechanic before setting out. The summer months are usually the busiest time for RV repairers but the fall and winter seasons are quite slow. Therefore, Trailer Life states that this is a great time to have your LP-gas system, furnace and water heater serviced to make sure everything's in good working order.
Further, ensure that the entry door has an effective seal. Over time, the stripping tends to weaken and allows outside air to be let inside. Never underestimate the effectiveness of these seals; it's the number one culprit for letting cold air inside!
If dual-paned windows are not available or are too costly, consider using insulation with foil-backing that can be found at home improvement stores. It can be custom cut to fit the openings that need more insulation, even if it is not a standard sized window.
To prevent the heat in the trailer from seeping upward and escaping, use vent cushions. These can also be found at home improvement stores and are tailored to fit standard-sized vents.
Depending on the location, it may also be necessary to keep antifreeze on hand to prevent holding tanks from freezing over. Most holding tanks only prevent freezing up to -20° when exposed to the elements. Trailer Life also recommends keeping some heat tape on the dump valves to prevent them from sticking and to keep the valves closed until you're ready to dump to prevent ice dams from forming in the sewer hose. Further, consider applying heat tape to the hose, as well.
These are a just a few tips on how to safely enjoy and travel with a travel trailer. At Aegis General Insurance Agency, we have a deep understanding of the potential safety risks involved with these trailers, which is why we offer our Trailblazer Program to provide protection for its parts, equipment, and personal items within the rig. For more information on our products and services, contact our experts today at (866) 662-5752.
Posted in: blog Traveling Trailer Insurance